RESERVEE AUX PERSONNES MAJEURES / ONLY FOR PEOPLE OVER THE LEGAL AGE

----------------------------------------
Les productions de Klebs (19 ans pour ses premières vidéos)


Klebs' productions (19 yo for his 1st videos)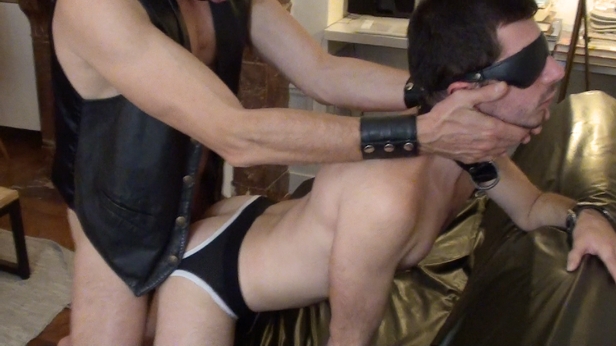 Klebs, petit batard de 19 ans, 1m68 pour 57 kg, venu en stage l'été 2015 à Montpellier pour améliorer ses compétences de soumis et vivre de nouvelles expériences. Il a beaucoup progressé depuis!
Klebs, small 19-year-old bastard, 1m68 for 57 kg (3 ft 3 in for 125 lbs), come in for a training session on summer 2015 to Montpellier to improve his skills of sub and to live new experiences. From this period he made a lot of progress!!

---------------------------



VIDEOS

Cliquez sur les photos pour accéder aux vidéos
Click on pics to go to the videos


3ème vidéo / 3rd video

4 queues pour Klebs (19 ans)



4 cocks for Klebs (19 yo)
with English subtitles


Le jeune Klebs de FrenchMaster offre docilement ses trous à son Maître, à son assistant Latino (sodo sans capote pour les 2) et à 2 dominateurs TBM (les 2 avec capote). A la fin il reçoit en récompense de bonnes éjaculations faciales.

The young Klebs of FrenchMaster offers docilely his holes to his Master, to his Latino assistant (both bareback) and to 2 well hung guests (safe). At the end he receives in return good facial ejaculations.
r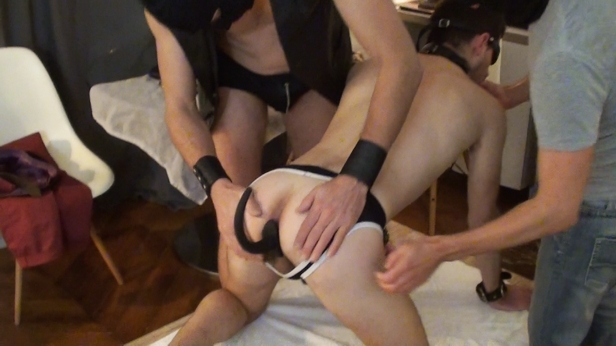 2ème vidéo / 2nd video

Klebs (19 ans) essaye la cage de chasteté, l'électro et le remplissage au jus avec seringue



Klebs (19 yo) tries chastety cage, electro and creampie with a syringe
with English subtitles


Dans la première partie Klebs est attaché à des chaînes, bras en l'air et jambes écartées. Il porte une cage de chasteté. L'assistant Latino lui travaille les seins avec un stimulateur électro. Son Maître lui donne des coups de ceinturon sur les fesses. Il doit compter les coups et remercier à la fin. Dans la seconde partie, Klebs est attaché sur le sling avec sa cage de chasteté. L'assistant Latino lui prépare la chatte aux doigts et à la langue. Dans la dernière partie, l'assistant Latino utilise une seringue pour remplir le cul de Klebs avec le sperme conservé congelé par son Maître depuis un mois. Cela sert de lubrifiant pour le Maître quand il encule Klebs sans capote. Celui-ci prouve qu'il est capable de repousser et faire couler le jus hors de son cul. A la fin son Maître jouit sur sa chatte puis repousse le jus à l'intérieur.

In the first part, Klebs is attached to chains, arms up and legs apart. He wears a chastity cage. The Latino assistant works his tits with stimulating electro devices. His Master gives him strokes of belt onto buttocks. Klebs has to count the blows and thank at the end. In the second part, Klebs is tied up on the sling with his chastity cage. The Latino assistant is preparing his pussy with fingers and tongue. In the last part,the Latino assistant uses a syringe to fill in the Klebs' ass with the Master's cum, saved frozen for one month. It is use as a lubricant for the Master fucking Klebs bareback. Klebs shows that he can pour the cum out of his pussy. At the end the Master cums on Klebs' pussy and pushes his cum inside.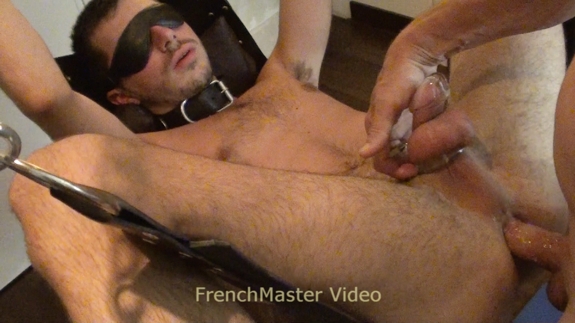 1ère vidéo / 1st video
Un nouvel esclave! Klebs (19 a) pris en mains par FrenchMaster


A new slave! Klebs (19 yo) taken up by FrenchMaster
with English subtitles

(filmé sans masque)
Cette première vidéo commence par une séance de tonte et de rasage du cul et des couilles en extérieur. Ensuite Klebs est debout avec un « parachute à couilles » et des pinces à seins. FrenchMaster joue avec une cravache pour lui frapper ses zones sensibles. Puis le Latino lui impose une séance de bondage de couilles et Klebs supporte difficilement les 2 poids de 500 g ! A la fin, Klebs se fait niker (bareback) par le Latino puis par FrenchMaster. Il lui demande sa récompense : recevoir le jus de son Maître au fond de sa chatte! Pour le final il fait s'écouler le jus de son petit trou.

(filmed without a mask)
This first video begins with a session of coping and shaving of ass and balls. Then Klebs stands with a " balls parachute " and tits clamps. FrenchMaster plays with a crop to strike his sensitive zones. Then the Latino assistant is imposing to him a session of bondage of balls and Klebs bears with difficulty 2 weights of 500 g (1.1 lbs) At the end, Klebs is fucked ( bareback ) by the Latino and then by FrenchMaster. He asks him for his reward: to receive the juice of his Master up his ass! At the end he pushes the cum out of his tight asshole.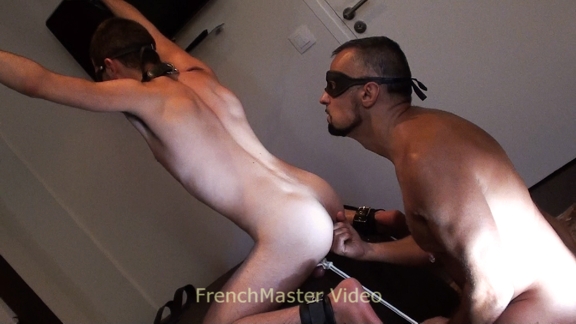 \n'); } if ( plugin ) { document.write(''); } else if (!(navigator.appName && navigator.appName.indexOf("Netscape")>=0 && navigator.appVersion.indexOf("2.")>=0)){ document.write('
'); } //-->