RESERVEE AUX PERSONNES MAJEURES / ONLY FOR PEOPLE OVER THE LEGAL AGE

----------------------------------------
Les productions de Léo, soumis de 22 ans, dépucelé par FrenchMaster
Leo's productions, 22 yo sub, who lost his virginity with FrenchMaster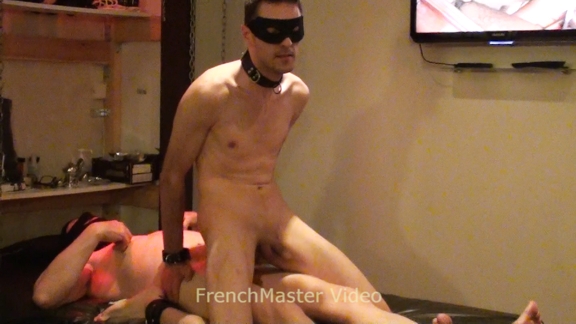 Léo est un jeune débutant de 22 ans venu spécialement à Montpellier pour se faire dépuceler par FrenchMaster et être initié à la soumission.
La première séance, celle du dépucelage, n'a pas été filmée mais des photos ont été prises. Elles sont regroupées dans 2 galeries (34 et 35 photos).
La seconde session a été filmée. Léo continue son apprentissage et son cul commence à s'ouvrir.
Lors de sa troisième session, filmée aussi, il est offert à un coach sportif TBM.

Leo is a young 22-year-old beginner who come specially to Montpellier to offer his virginity to FrenchMaster and to discover the submission.
The first session, that of the defloration, was not filmed but photos were taken. They are grouped in 2 galleries (34 and 35 photos). The second session was filmed. Léo continues his training and his ass begins to open. During his third session, filmed also, he is offered to a sports coach very well hung.


---------------------------

Voici son témoignage / Here is his

testimony




Pourquoi j'ai voulu venir chez French Master ? Je n'avais pratiquement aucune expérience avant ma rencontre avec French Master et j'étais attiré depuis longtemps par le SM, j'ai donc eu envie d'avoir ma première vraie expérience dans un contexte de soumission avec eux. Et je dois dire que pour une première ce fut vraiment excellent, cela restera un souvenir mémorable pour moi. Bien sûr j'avais des craintes, en plus je suis de nature timide, mais French Master et son assistant ont fait en sorte de me mettre à l'aise et tout s'est très bien passé. Quel intérêt j'ai trouver de me faire dépuceler par French Master ? Et bien leurs maitrises, car ils ont de l'expérience et ils savent vraiment bien s'y prendre. J'ai beaucoup apprécié la façon dont ils m'ont pris en main en douceur, en respectant mes volontés, sans violence. C'était vraiment très bien, rien à dire, ils m'ont donner beaucoup de plaisir.
Merci à mon maître de m'avoir permis de réaliser cette première expérience qui n'a fait que renforcer mon attirance pour le SM.
(Léo 22 ans - Janvier 2014)
Why I wanted to come to French Master? I had practically no experience

before my meeting with French Master and I was attracted for a long time by the SM, I thus wanted to have my first real experiment in a context of submission with them. And I have to say that for the first night it was really excellent, it will remain a memorable souvenir for me. Of course I was afraid, in more I am of shy nature, but French Master and his assistant did everything to make me comfortable and everything very well passed.
What interest I have to loose my virginity by French Master? Because they have some experience and they really know well how to proceed. I appreciated a lot the way they took me in hand smoothly, by respecting my wills, without violence. It was really very well, nothing to say, they gave me a lot of pleasure. Thanks to my Master to have allowed me to realize this first experience which was only strengthening my attraction for the SM. ( Léo 22 yo - January, 2014)


VIDEOS

Cliquez sur les images pour accéder aux vidéos
Click on pics to go to the videos


| | |
| --- | --- |
| 5ème vidéo / 5th video | |
| 3ème vidéo / 3rd video | 4ème vidéo / 4th video |
| 1ère vidéo / 1st video | 2ème vidéo / 2d video |
---------------------
PHOTOS / PICS

Deux galeries de photos avec le récit de son dépucelage


2 pics galleries with the story of his defloration
34 Photos / Pics

Suce et préparation du cul, dépucelage par FrenchMaster

Suck, ass preparation and defloration

Sodo par le Latino, plug et éjac faciale

Fucked by the Latino, plug and cum on face





\n'); } if ( plugin ) { document.write(''); } else if (!(navigator.appName && navigator.appName.indexOf("Netscape")>=0 && navigator.appVersion.indexOf("2.")>=0)){ document.write('
'); } //-->