Matthew's productions (21 yo for his 1st video)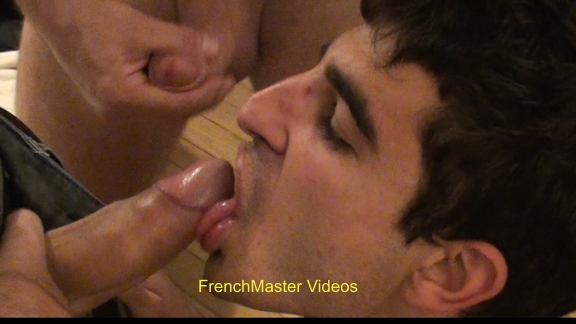 Matthew a débuté à 21 ans sa formation de soumis avec FrenchMaster. Très exhib de nature il a tout de suite voulu être filmé sans masque. Il assume sans complexe son goût pour la soumission à des hommes de tous les âges à condition qu'ils soient bien montés! Matthew est finement musclé et très poilu sur la partie basse de son corps à partir de la taille. Il a des fans qui adorent le voir se faire tondre et raser tandis que d'autres préfèrent son look de petit faune. Il a encore du mal à se faire prendre par de grosses queues surtout plusieurs à la suite mais il accepte ce que son Maître lui demande lorsqu'il a des invités à satisfaire, quoiqu'il lui en coûte pour ouvrir sa chatte. Il suce très bien et adore recevoir le jus dans sa belle petite gueule virile puis l'avaler comme sa récompense.
Matthew began when he is 21 yo his training of sub with FrenchMaster. Very exhib of nature he wanted at once to be filmed without mask. He assumes without complex his taste for the submission to men of all the ages as long as they are well hung! Matthew is finely muscular and very hairy on the low part of his body from the size. He has fans who adore seeing him be cropped and shaved whereas others prefer his look of small faun. He still has difficulty in being fucked by big dicks especially several in a row but he accepts for what his Master asks him when he has guests to satisfy, although he costs it to him to open his asshole. He sucks very well and adores receiving the cum in his cute virile mouth then swallowing it as his reward.

---------------------------

Voici son témoignage / Here is his

testimony




On se sent en confiance avec FrenchMaster et son assistant et ça permet de progresser. Avec une relation suivie en soumission on peut progresser sur certains points. J'ai pu découvrir des aspects de la soumission que je pensais aimer mais sans avoir eu l'occasion de pratiquer jusque-là. Les vidéos permettent à d'autres jeunes de voir comment se passent des plans soumission et leur donner le goût d'être soumis.
(Matthew 22 ans - Juin 2016)
One feels comfortable with FrenchMaster and his assistant and that allows to progress. With a close relation in submission we can progress on certain points. I was able to discover aspects of the submission which I thought of liking but without having had the opportunity to have a practice up to there. Videos allow other young guys to see how take place submission sessions and to give them the taste to be submitted.
(Matthew 22 yo - June 2016)
---------------------------
-------------------------

VIDEOS & PHOTOS

Cliquez sur les photos pour accéder aux vidéos
Click on pics to go to the videos


6ème vidéo / 6th video

Matthew assure le service (22 ans)

(avec sous-titres en anglais)

Matthew full service (22 yo)
(with English subtitles)


A genoux, Matthew sert l'apéritif à mon invité, à mon assistant Latino et à moi-même. Il vénère les pieds de mon invité puis, toujours à genoux, il nous suce en alternant les queues. Dans la salle de bains Matthew se fait arroser de pisse par nous 3 et nous suce. A la fin l'invité jouit sur sa langue. Mon assistant Latino travaille le cul très serré de Matthew mais il a du mal à le prendre profondément. A la fin Matthew me suce et suce mon invité et reçoit notre jus dans sa bouche. .

On his knees, Matthew is offering the aperitif to my guest, to my Latino assistant and to myself. He reveres my guest's feet, then always on his knees, he sucks them by alternating cocks. In the bathroom, Matthew is receiving golden shower by the three of us and then he sucks us. At the end, the guest is jizzing on his tongue. My Latino assistant is working Matthew's tight ass with a long diido but it is hard for him to get it deep inside. At the end Matthew is sucking me and my guest before getting our cum in his mouth.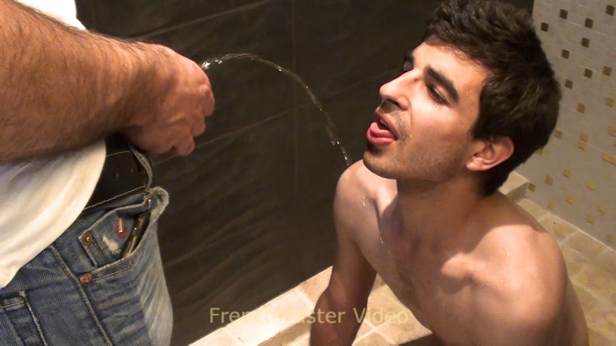 5ème vidéo / 5th video

Séance spéciale de rasage hard pour Matthew (22 ans)



Matthew (22 y.o.): Hard special shaving session
with English subtitles


Scénario basé sur une proposition de Brian, un fan Américain de Matthew. Après avoir pompé son Maître à genoux, Matthew est attaché bras en l'air pour se faire tondre les aisselles, le pubis et les fesses. L'assistant Latino lui met aussi des pompes à seins. FrenchMaster lui donne 10 coups de martinet. Matthew doit compter chaque coup et remercier son Maître à la fin. Ensuite le Latino fait mettre à genoux pour lui raser les fesses et l'anus. Matthew suce à genoux son Maître pour pratiquer la gorge profonde. Puis il se met à 4 pattes sur le lit pour offrir sa chatte toute douce pour que son Maître l'encule bareback. Puis il se met sur le dos pour se faire encore enculer hard. A la fin il reçoit le jus de son Maître dans sa bouche et se branle pour jouir à son tour.

Scenario based on Brian's proposal, American fan of Matthew. Having sucked his Master on the knees, Matthew is attached arms in the air to be cropped armpits, pubis and buttocks. The Latino assistant also puts him pumps on tits. Then FrenchMaster gives him 10 blows of strap. Matthew has to count every blow and thank its Master at the end. Then the Latino assistant made him to kneel down to shave buttocks and asshole. Matthew sucks on the knees his Master to practice deep throat. Then he puts himself in 4 legs on the bed to offer his quite soft pussy so that his Master fucks him bareback. Then he puts himself on the back to be still fucked hard. At the end he receives the cum of his Master in his mouth and wanks to cum in turn.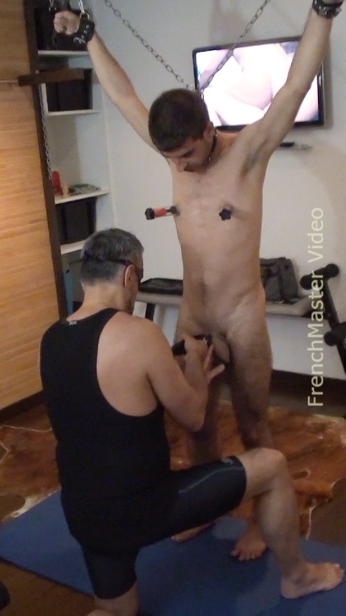 4ème vidéo / 4th video

Matthew au service de dominateurs musclés (21 ans)



Matthew is serving muscular guys (21 y o)
with English subtitles


Matthew et l'assistant Latino sont au service de 3 invités musclés et TBM. Matthew fait des progrès en suçant et même s'il a mal il se fait niker hard sans demander d'arrêter. A la fin il a droit à un arrosage à la pisse et 3 éjaculations faciales.

Matthew and the Latino assistant are serving 3 well hung and muscular guests. Matthew is making progress in sucking and even if it hurts he is fucked hard without asking the guys to stop. At the end he gets a golden shower and cum on his face from 3 guys.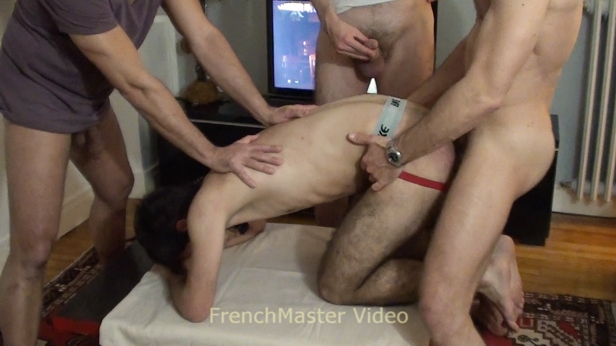 3ème vidéo / 3rd video

Formation de Matthew (21 ans)



Training for Matthew (21 y o)
with English subtitles


Dans la première partie mon assistant Latino tond et rase le cul et les couilles de Matthew. Matthew apprend à sucer fond de gorge avec mon Latino et un invité TBM. Puis Matthew est niké hard par ce mek TBM. A la fin, Matthew se fait enculer sans capote par son Maître puis le suce jusqu'à recevoir son jus et celui de son invité dans sa gueule.

In the first part, Matthew's ass and balls are shaved by my Latino assistant. Matthew is learning deep throat sucking with my Latino and a well hung guest. Then Matthew is fucked hard by this well hung guy. At the end, Matthew is fucked raw by his Master and then he sucks him until he receives his cum and the guest's cum in his mouth.
r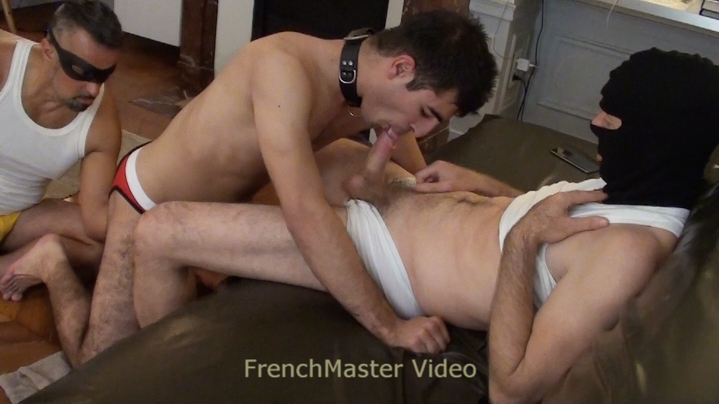 2ème vidéo / 2nd video

Matthew (21 a) mis à disposition de 3 dominateurs



Matthew (21 yo) available to 3 masters
with English subtitles


Dans la première partie Matthew est mis au service d'un maître âgé. Il doit le sucer à genoux, il reçoit des coups de cravache et doit se frapper lui-même. Il est promené à 4 pattes tenu en laisse. Dans la seconde partie il est mis à disposition de 2 dominateurs musclés et TBM. Il s'entraine à la technique des "gorges profondes" et profite de l'expérience de l'assistant Latino. Matthew donne son cul et sa bouche aux 2 invités même s'il a des difficultés à se faire enculer par de si grosses queues. A la fin, à genoux, il reçoit leur jus sur sa langue avant de jouir à son tour.

In the first part Matthew is made available to an old master. He has to suck him on the knees, he gets hit of crop and has to beat himself. He is walked in 4 legs kept on a lead. In the second part he is given to 2 muscular and well hung masters. He is trained to the technique of the " deep throat " and takes advantage of the experience of the Latino assistant. Matthew gives his ass and his mouth to 2 guests even if he has difficulty be fucked by so big tails. At the end, on the knees, he receives their juice on his tongue before cuming in his turn.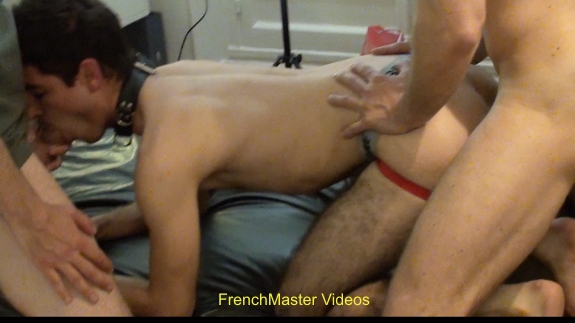 1ère vidéo / 1st video
L'initiation de Matthew (21 ans)


Matthew's initiation (21 yo)
with English subtitles

(filmé sans masque)
Cette première vidéo montre la prise en mains de Matthew par son nouveau Maître et l'assistant Latino : on le voit nous sucer encore habillé mais avec son collier de chien, puis tonte et épilation du cul, lavement avec conseils du Latino, bondage pour enculage nokpote par son Maître et enfin suce pour - récompense de tous ses efforts! - recueillir le sperme de son Maître sur sa langue tirée.

(filmed without a mask)
This first video shows Matthew's handling by his new Master and the Latino assistant: we see him sucking us still dressed but with his dog collar, then shearing and removal of hair of his ass, rectal enema with advice of the Latino, bondage for raw fuck by his Master and finally sucks for - reward all his efforts! - collect the sperm of his Master on his pulled tongue.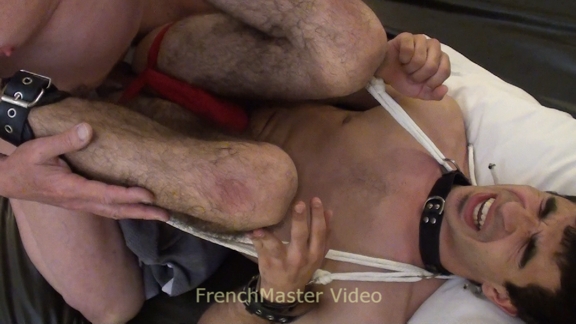 2016