RESERVEE AUX PERSONNES MAJEURES / ONLY FOR PEOPLE OVER THE LEGAL AGE

----------------------------------------
Les productions de Polux (24 ans)


Polux's productions (24 yo)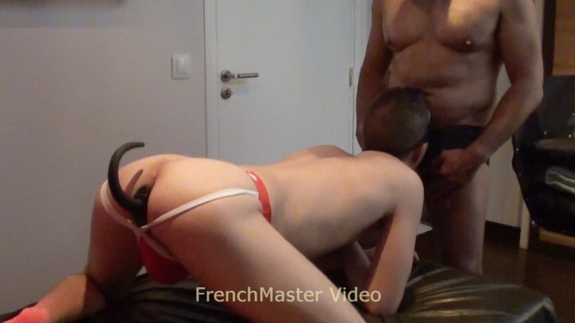 Polux est un de mes soumis régulier depuis qu'il a 19 ans mais c'est seulement récemment qu'il a eu envie d'être filmé. Et depuis il a pris de l'assurance et beaucoup de plaisir à s'exhiber devant la caméra pour montrer comment il se fait un lavement, comment il pompe, se fait travailler le cul et même fister. Sans parler de se faire remplir au jus de son Maître! Une vraie bonne salope sans tabous!
Polux is one of my regular subs since he his 19, but it is only recently that he has accepted to be filmed. Now he has got more self-confidence and he has a lot of pleasure to show himself in front of a camera. He likes to show how he makes an enema, how he sucks, he is fucked with dicks and dildoes, he is fisted... and how he likes to have his ass filled with his Master's cum! A real slut without taboos.


---------------------------
-------------------------

VIDEOS & PHOTOS

Cliquez sur les photos pour accéder aux vidéos
Click on pics to go to the videos


3ème vidéo / 3rd video
Polux se fait travailler le cul



Polux has his ass worked out



with English subtitles
Dans la première partie Polux porte une queue de chien pour exciter son Maître. A 4 pattes il le pompe fond de gorge. Puis sur le dos il se fait enculer bareback par son Maître qui, à la fin, jouit sur sa chatte et pousse son jus bien au fond. Ensuite allongé sur le ventre il pompe le Latino fond de gorge puis il se fait enculer bareback par lui. Polux profite du sling pour se faire travailler le cul avec de gros godes par le Latino. Dans la quatrième partie, Polux se fait travailler le cul par le Latino avec des godes encore plus gros.
A la fin il arrive à se faire fister.

In the first part Polux is wearing a doggy tail to arouse his Master. On the four he is sucking him deep throat. Then, laying on his back he is fucked bareback by his Master who, at the end, is cuming on Polux pussy and pushing his cum deep inside. After that, laying on his belly he is sucking the Latino assistant deep throat. Then, he is fucked bareback by him. Polux is taking advantage of the sling to have his ass worked out with big dildoes by the Latino assistant who succeeds in fisting him at the end.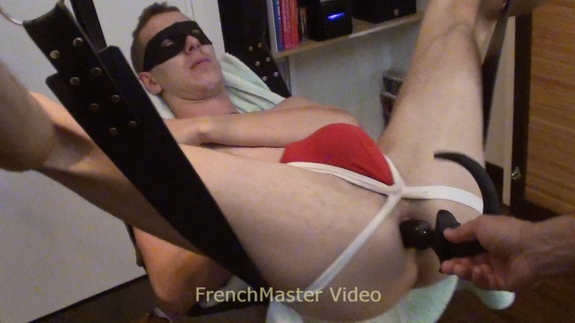 2ème vidéo / 2nd video

Polux, de A à Z (24 a) : du lavement au fist en passant par le remplissage au jus et le godage

Polux, from A to Z (24 yo): from enema to FF through creampie and dildoes

with English subtitles


Polux fait un strip-tease pour montrer le slip qu'il a porté et sali pendant 3 semaines pour qu'il sente fort avant de l'envoyer à un de ses fans comme « souvenir », puis il se fait un lavement profond sans être allé aux WC avant.
Polux se fait niker sans capote par son Maître tout en pompant le Latino. Polux supplie son Maître de lui jouir dans le cul.
Le Latino travaille alors le cul de Polux avec ses mains et deux énormes godes. Polux gueule un max. A la fin le Latino arrive à fister Polux qui hurle de plaisir.


Polux makes a strip-tease to show the shorts he wore and stained for 3 weeks to obtain good smells from piss, cum and marks from ass for a fan who is going to get them as a "souvenir", then he makes a deep enema without going to toilets before.
Polux is fucked raw by his Master while sucking the Latino assistant. Polux begs his Master to cum in his ass.
The Latino assistant is working the ass of Polux with his hands and with 2 huge dildoes. Polux is crying a lot. At the end the Latino fists Polux who is screaming with pleasure.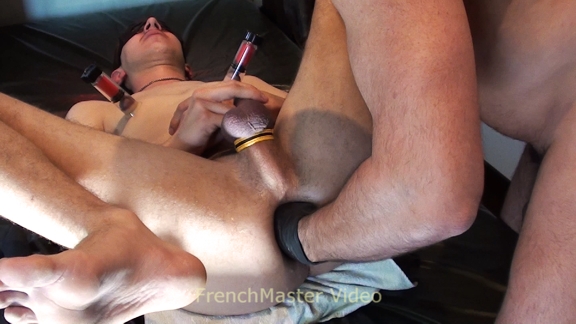 1ère vidéo / 1st video
Polux, jeune salope gourmande/

Polux, young greedy slut



A genoux avec son string, Polux suce son Maître dans le salon et se fait niker sans gel ni capote, sans attendre d'être dans la salle de jeu.
Ensuite Polux suce l'assistant Latino, se fait goder et reçoit des pompes à seins. Polux se fait travailler le cul avec de gros godes, en particulier une boule de bon diamètre et un gode gonflable!!
Polux se travaille le cul avec un long gode, avant de se faire enculer par son Maître et recevoir son jus sur sa rondelle. FrenchMaster pousse le jus dans le trou avec son gland!

Polux is sucking his Master in the living room and is fucked without lubricant nor condom, enable to wait until being in the playroom. Then Polux is sucking the Latino assistant, using dildoes and he receives nipple pumps. Polux has his ass worked with big toys, especially a large ball and an inflatable dildoe. Polux works his ass with a long didldoe, before he is fucked by his master and receives his cum on his arsehole. FrenchMaster pushes his cum inside with his glan.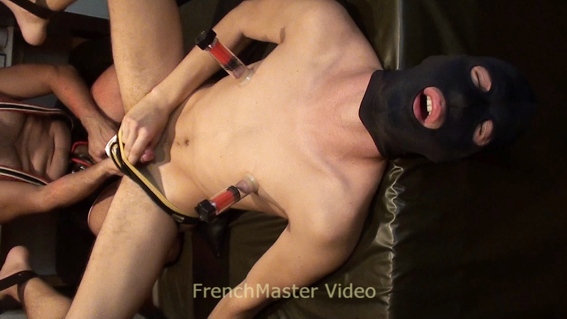 2016



\n'); } if ( plugin ) { document.write(''); } else if (!(navigator.appName && navigator.appName.indexOf("Netscape")>=0 && navigator.appVersion.indexOf("2.")>=0)){ document.write('
'); } //-->